Paypal with fee module for Prestashop
PRESTASHOP VERSION:
From: 1.5.0.17 up to 8.1.0
OPTIONS: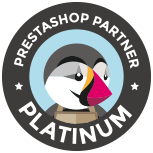 Paypal module for Prestashop which allows the user to apply a fee to the customers who pays with Paypal, with more and exclusive functions, all more advanced than the official Paypal module. New Option "Pay Later"
Pretashop Paypal with fee
The module is fully configurable, we can set the fee / commission percentage that Paypal charge to us, by default we set it as a 3.5% plus a fixed 0.35€, fully administrable. Easy and quick install. Sandbox mode to test it.
The customizable fee allows setting a fixed commission and a variable percentage.
Add Widgets "Pay Later"
Allows setting a maximum total amount to auto-disable the module.
You can make refunds directly from the Prestashop order without needing to go into the Paypal website
Install & configuration with the three API Paypal parameters
 You can set the fee with or without taxes
 The invoice with disaggregated VAT, the fee will be treated as an order line
 Choose products which you do not want to be paid with Paypal, you can select individually, by brands or categories
 Improved round options
 Works with all the currencies supported by Paypal
Forget the Paypal commissions! The easiest way to integrate Paypal in Prestashop