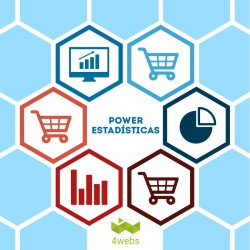 It offers a golbal vision of the rentability of the brands, products and categories that has a better saleability, and shows the periods where the sales grows because this stadistics are displayed in a monthly way.
You can see the average sale price of your products, this functionality allows you to know which period of the year your products have a better rentability.
You can export to a excel file all this detailed information of your products and previsions in order to make the orders to your suppliers.
FUNCIONES PRINCIPALES DEL MÓDULO
Yearly sales stadistics group by months of all your products.
Quick access to the order details through the stadistic table to check your orders.
It allows you to visualize the yearly or monthly sales quantity of your products.
It allows you to visualize the average price of each product to see its evolution.
It allows you to make a prevision of your sales for the next year suggesting a % of a stimate growing.
It allows you to visualize the manufacturer sales grouup by categories to see the rentability of your products groups.
It allows you to export the data by brands to a Excel file to study it.
It allows you to visualize the sales by categoies of all your brands in a monthly way.
It allows you to visualize the total unit sold of each category by brand or by category.
It allows you to select the orders states that you want to keep in mind. For example, "cancelled", "sold out" or whatever, you can to discard them in order that the stadistics don't count with them.
It allows you to relocate or reclassify the categories in order to the products belongs to other category for the stadistics
Demo
User: demo@demo.com Pass: demodemo
Control de versiones del módulo
15/09/2016 - v.1.0 Lanzamiento.
19/09/2016 - v.1.3& Bug.
10/10/2016 - v.1.3.2 Add token.
15/02/2017 - v.1.4.2 Optimice speed, new library excel with php
07/03/2017 - v.1.4.3 php excel library validated
19/06/2017 - v.1.4.4 sort by sold units in categories
26/06/2019 - v.1.4.6 Compatible with Prestashop 1.7
Support and review of incidents
In case you have problems with a module, 4webs agrees to locate the problem provided it is for reasons attributable to our modules, 4webs not make adjustments for customer need or incompatibilities with other modules.
Support Type
For the purchase of any module is entitled to updates and support via tickets during the first 90 days from the date of purchase, the response time and review of incidents may vary between 24-48 hours.
The module updates will appear on your client file where you have enabled the download module or upgrade.
The hours of service and customer support on modules are Monday to Friday from 9am to 14pm.
If you need urgent interventions or outside of these hours will cost 60 € per hour plus VAT.
Once past the 90 days support and updates only those modules that have contracted the corresponding period of support, if you have not hired updates the customer must buy back the module will be given.
How can support on the modules?
For 4webs can locate the problem it is essential to force the compilation and disable the cache.
It is recommended to back up all files and database before installing any module.
For help or support you can request opening a support ticket (registration required).. Open support ticket
4webs not responsible for any problems you may have a bad user configuration settings or manipulation of Prestashop hosting.